MORE ABOUT USANA HEALTH SCIENCES
It is our goal to explain to you why we have selected USANA HEALTH SCIENCES as our product partner as we help you achieve and maintain your optimal health for life. As consumers of the products ourselves, and as a result of working with our clients over the years, there are specific reasons why we are confident including USANA in our services as Health Coaches.
For a better understanding of the caliber of the USANA products, click play on the video below to learn about USANA's founder, Dr. Myron Wentz.
USANA Product Lines are completely Science-Based:
USANA scientists are a smart group of talented chemists, molecular and cellular biologists, nutritional biochemists, pharmacists, and sports science experts. Working together in USANA's high-tech laboratories, they meticulously test, study, and research and develop new products based on the latest nutritional scientific discoveries. USANA believes in the benefits of science, and demonstrates this belief through major investments in studies, equipment, and the manpower it takes to keep the company on the forefront of nutritional science.
USANA Products Provide Optimal Levels of Nutrients: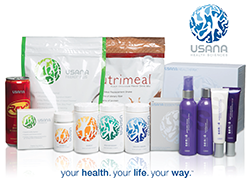 It is questionable as to whether or not we can obtain the optimal levels of essential vitamins, minerals and antioxidants we need on a daily basis from food alone. With our heavily laden diet of processed foods, what we eat every day may not provide optimal levels of nutrition.
Our bodies cannot perform well with a lack of quality nutrition. The stress of long-term undernourishment may contribute to conditions like diabetes, arthritis, osteoporosis, and other health concerns.
Optimal nutrition is the foundation of optimal health. This includes what you select for your meals and snacks, as well as your choice in supplementation, which provides an extra and layer of support for healthy living. Given our fast-paced, stressful lives, and given the demands on our time and our finances, it is more urgent than ever before to ensure that we are making sound investments in our health.
USANA Has Nutritionals For All Generations:
We all have different nutritional needs and can benefit from a nutritional program that is both flexible and customized. Comprised of the Essentials and Optimizer's, USANA Nutritionals provide the micro-nutrients your body utilizes through every stage of your life.
USANA Offers a Choice of a Healthier Lifestyle:
Countless studies have shown that the key to a longer health span lies in choosing a lifestyle that supports optimal health. And luckily, you're in control. Youthful vitality, no matter your age, comes as a result of the positive choices you make daily to protect your body's cells. Things like diet, quality supplementation, exercise, proper hydration, and skin care all impact our ability to live life to its full potential.
USANA Has Low-Glycemic Food Products:
A balanced diet is the center of a healthy lifestyle plan. Focus on foods that won't spike your blood sugar. USANA foods, such as Nutrimeal or Nutrition Bars, are a great option as they have been clinically proven to be low glycemic.
For more tips on balancing your diet, check out this video from USANA's own Dr. Brian Dixon, director of new product innovations, and John Bosse senior scientist of product innovation. Click here to read more and click on the play button in the video below to see why we need Low-Glycemic Foods.
USANA Has Preservative-Free Skin and Hair Care Products:
Developed by USANA Health Sciences, Sense products are formulated to properly nourish and hydrate your skin's cells. Sense is a complete face and body care collection without added chemical preservatives. Its patented self-preserving technology combines purifying botanicals in protective liquid crystals so each product stays fresh naturally. Skin looks younger and healthier.
USANA's Manufacturing Process is Superior:
Great science can be destroyed by poor manufacturing. Poorly manufactured, incomplete and unbalanced nutritional products are a waste of money and do little to promote better health. USANA is one of the few nutritional companies to manufacture and test its own products to ensure that every product effectively meets the highest standards of purity, potency and safety. We are also one of very few supplements to meet British and US Pharmacopoeia Standards.
USANA is recognized as TOP in its Class:
When it comes to supplements, quality matters. Not all nutritional supplements are created equal. USANA's superior research and development and Good Manufacturing Practices patterned after pharmaceutical standards provide the highest quality, science-based products available today.
Each supplement carries a Potency Guarantee and many of the USANA products have earned recognition for excellence.
USANA has received Editor's Choice Award & Gold Medal of Achievement from the NutriSearch Comparative Guide to Nutritional Supplements (5th ed./Consumer Edition). Contents tested and certified by NSF International, NSF Certified for Sport and ConsumerLab.com
USANA rated #1 Overall Merchant for Customer Satisfaction and #1 Merchant in Direct Sales Based on Customer Satisfaction (ConsumerLab.com)
USANA Products are Rated #1 by Third Party Consumer Guide:
The Comparative Guide to Nutritional Supplements by NutriSearch, a recognized authority much like the Consumer Report, has a well-stated mission to provide consumers with scientifically based information about dietary supplements, particularly multiple vitamin and mineral supplements. NutriSearch recognizes the necessity of examining not only the nutrients included in a supplement, but also the balance, completeness, purity, bioavailability and potency of those ingredients; manufacturing practices; including testing; and other quality control concerns.
The recent news release dated Aug. 14, 2013, reports that USANA Health Sciences has received the prestigious "Editor's Choice" designation in the latest NutriSearch Comparative Guide to Nutritional Supplements, 5th (Consumer) Edition, as well as the NutriSearch Gold Medal of Achievement™, the highest distinction possible. This is the third consecutive time USANA has earned the distinguished titles.
The guide, which independently compares, reviews and rates more than 1,200 supplements in North America, evaluates not only the nutrients included in a supplement but also "the balance of those ingredients [and] manufacturing practices." The latest edition includes recent scientific findings on iodine and vitamin D — two nutrients that have long been underestimated and misunderstood — and has been completely rewritten from cover to cover.
Five Reasons You Can Trust Your Health to USANA
Groundbreaking nutritional research: USANA invests significant time and money in extensive scientific operations, information systems, research services, worldwide scientific alliances, and technical support. USANA experts are at ther forefront of nutritional science.
First-Class ingredients: USANA's unique indredient formulas are based on sound, scientifically validated research and tested ingredients.
Guaranteed potentcy: USANA guarantees the claimed potency of it's products. Most of USANA's formulations are manufactured in-house, following stringent analytical and quality control procedures. USANA verifies each production batch so that what you read on a product label is what you will receive in the product.
High-Quality manufacturing: USANA's quality program for nutritional products is modelled after the pharmaceutical industry. A variety of governemnt agencies conduct periodic inspections, requiring strict control of procedures and documentation.
Confidenece of top athletes: USANA's pharmaceutical-grade Good Manufacturing practices ensure the safety and quality of each product. USANA products have been proven effective and free of contaminants. Elite athletes including Australian Olympic gold medallist Steve Hooker, Olympian Clint Robinson and a myriad of the other professional athletes worldwide, trust their health to USANA.
The Journal of American Medical association (JAMA) now reccomends that, given our nutrient-poor modern diet, supplementation each day which a multiple vitamin is a prudent preventative measure against chronic disease. (June 19 2002) Remember, poorly manufactured, incomplete, and unbalanced nutritional products are a waste of money and do little to promote better health.
USANA Products Available in 19 Countries:
This is a global nutritional supplements company! Your friends and family members in other countries can also enjoy the best nutritional products in the world.

The Live Free Group Health Coaches want you to know USANA is the best of the best. For our clients, we have selected THE company whose product lines promote optimal health at the cellular level. We all benefit significantly when we provide the cells of our bodies with the right kind and the right amounts of nutrients. Doing that results in neutralizing dangerous free radicals, which cause diseases and weaken the immune system. We want our clients to experience "true health" which is the meaning of "USANA".

FDA Disclaimer: * These statements have not been evaluated by the Food and Drug Administration.  This product is not intended to diagnose, treat, cure, or prevent any disease.    Reset Disclaimer: It is suggested that you take these products to your physician and secure his/her advice if you intend to change your diet, begin an exercise program, are pregnant, lactating, have allergies, are taking medications, or are under the care of a physician. Reset is a FOOD, not a DRUG. Results will vary.   As with any health or fitness program, a sensible eating plan and regular exercise are required in order to achieve long-term weight loss results.