SPRING LEMON, DIJON & HERB VINAIGRETTE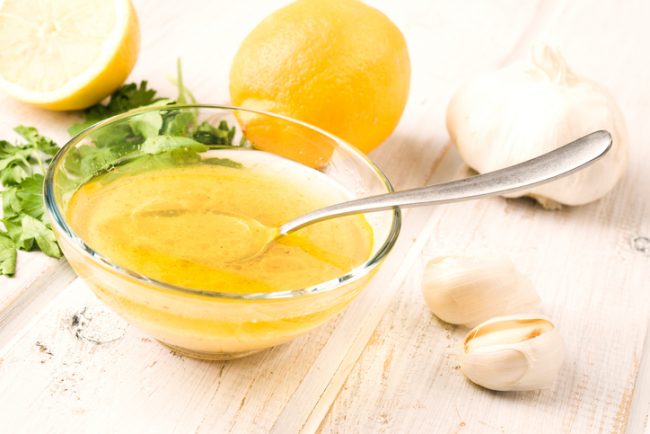 Dress your springtime salad in fresh style!!!



Once up a thyme, there was a large bowl full of greens, vegetables, nuts and seeds ready to be eaten for lunch. Though bright, wholesome and nourishing, the salad was missing one key ingredient. Dressing! But the pantry was bare—no salad dressing in sight. Was this the end of the healthy meal? Not quite! Swiftly, homemade vinaigrette came to the rescue. The refreshing combination of lemon, Dijon mustard, parsley and thyme tasted like spring when drizzled over the greens. And the lunch was eaten happily ever after.
INGREDIENTS: (We recommend organic )
1/4 cup extra virgin olive oil
1 Tbsp. white wine vinegar
1 Tbsp. freshly squeezed lemon juice
2 tsp. Dijon mustard
2 Tbsp. freshly chopped parsley
1 Tbsp. freshly chopped thyme
1 clove garlic, diced, optional
METHOD:
In a small jar or bottle, mix ingredients until combined. Use as a salad dressing or marinade.
Store refrigerated for up to one week.
THE LIVE FREE GROUP is a lively, energetic, integrity-based group of integrative health coaches bringing people together from all walks of life who want to seriously improve their health and lifestyles. We want you to know science has proven that poor health and degenerative diseases are preventable. You can achieve good health and you can maintain the changes made and have big results in how you feel and live. Please take a moment to subscribe to our blog, join our mailing list, like us on facebook, follow us on twitter, connect with us on linkedin, google+ and find us on Pinterest. Contact us if you have any questions or to set up a Free consultation