Mirror Mirror on the Wall . . .
Who's the fairest of them all? On your wedding day, YOU are!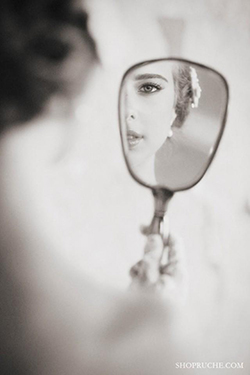 For just a moment, can you imagine seeing the "you" of your dreams looking back at you in the mirror on your wedding day? Look gorgeous and feel radiant in your gown. Put your health and beauty goals at the top of your "To Do" list now!
You are unique. The health needs of the human body, however, are the same for all of us. What can keep you from being your healthiest, most attractive self? Stress. A hectic lifestyle. Unhealthy food cravings. Just plain low energy. These and other obstacles can increase during the planning of a wedding. Trying to get everything checked off your list and done well is a balancing act. These challenges can put pressures on your lifestyle choices and can cause you to get stuck. Avoid getting stuck by partnering with a personal health coach.
Beautiful Skin Without the Risks
Research is showing a cumulative effect from our exposure to preservatives such as chemicals and parabens. Women use an average of seventeen personal care products to get you out the door in the morning that are being absorbed through your skin and making their way into the blood stream. Have you ever read the ingredients on the labels in your personal care products? Can you even pronounce them? Read the labels, do some research and use a daily regimen that will give you the results you want without the added risk to your health.
Beauty is More than Skin Deep
Good health is achieved from the inside out. Understanding the challenges of today will help improve your health and your appearance.
Challenge #1: The nutritional content of foods produced today is very different than in the past. Can you imagine eating eight oranges to get the nutrients your grandparents received from eating just one? The fact is that the foods you eat today have less nutrient value due to farming practices, the mineral depletion of soil and other changes. You can make good food choices, but that alone will not make for an overall healthier you.
Challenge #2: Our environment is full of harmful toxins. Exposure to these toxins put additional demands on your body.
Challenge #3: Today's lifestyles are more stressful than ever before. Greater stress leads to imbalances in the body's functioning, affecting your overall health as well as your mood and well-being.
An important step in meeting these challenges is adding needed vitamins, minerals and antioxidants to your diet.
Never Go Hungry
The importance of eating five times a day will not only help you fuel your body but also keep your metabolism "revved up." Skipping meals will cause your metabolism to slow down. In response, your body starts conserving energy by holding onto weight. Your body needs a balance of good proteins, good carbs and good fats at every meal and snack. Shop on the perimeter of the grocery store purchasing whole fresh foods. Buying organic when you can will help avoid exposure to chemicals and pesticides that are found to be present in higher levels in fruits and vegetables. Also, choose dairy and meat products without added hormones and antibiotics.
Food Choices Matter
The typical American diet has caused the rise in central weight gain that can lead to diabetes and other health problems. Foods you eat impact your body in either a positive or a negative way. Over time, certain food choices cause your body to either store weight or utilize the food for fueling your body. The right food choices can burn up to 80-85% of food eaten as fuel, providing your body with the proper support to manage and maintain a healthy weight.
Get Your Body Moving
Your body was created to move, but busy lifestyles are competing for time to include exercise in a daily routine. Without a plan and scheduling, exercise will not consistently happen! A good plan includes 30 minutes of exercise five times a week. NEVER let two days go by without some kind of physical activity that raises your heart rate. Every day tasks can be modified such as skipping the elevator and taking the stairs or parking your car a bit farther away. Simply choose an activity you enjoy such as walking, dancing or a team sport. Try using a pedometer, and make it your goal to increase your steps each day.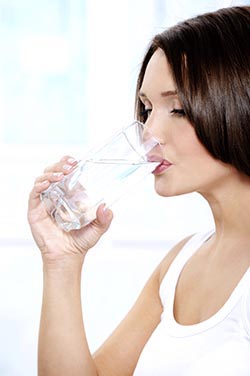 Hydrate, Hydrate, Hydrate
Did you know 60% of your body consists of water, and the body cannot function properly unless well hydrated? It is extremely important to stay hydrated during exercise and throughout the day. Make it a goal to increase your water intake.
Becoming and staying healthy and beautiful requires action and the help of an expert. This is every bit as important as the dress, the flowers, the music, and all the other choices you make as you start a new life as a bride.
We can help!
If you have a wedding coming up and want help getting on the path to healthy we're up for the challenge! We want to help you be the most beautiful bride you can be – inside and out! And you can help your bridesmaids and your Mom & Mother-in-Law look and feel their best on your big day as well! Even the groom and all his groomsmen can get in on this wonderful group of products.
The RESET program is a science-based formula of meal replacement shakes and bars which include all essential nutrients, plus packets of vitamin & mineral supplements.
The program helps you kick the carb cravings and get you off of the roller coaster of blood-sugar spikes and crashes…and that can help you be less likely to turn into a 'bridezilla'. The products are tasty and satisfying – no starvation diet here! The shakes and bars are simple and convenient – great for a busy bride who is continually on-the-go.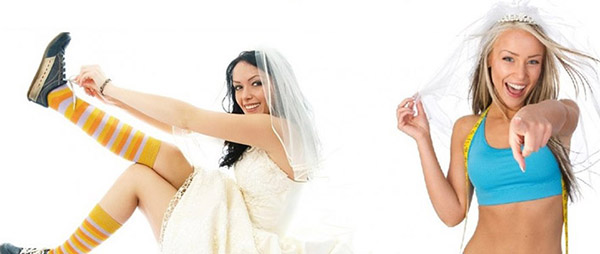 THE LIVE FREE GROUP is a lively, energetic, integrity-based group of integrative health coaches bringing people together from all walks of life who want to seriously improve their health, lifestyles and finances. We want you to know science has proven that poor health and degenerative diseases are preventable. You can achieve good health and you can maintain the changes made and have big results in how you feel and live. Please take a moment to subscribe to our blog, join our mailing list, like us on facebook, follow us on twitter, connect with us on linkedin, google+ and find us on Pinterest. Contact us if you have any questions or to set up a Free consultation.