MINI STRAWBERRY CHEESECAKES, GF AND DAIRY FREE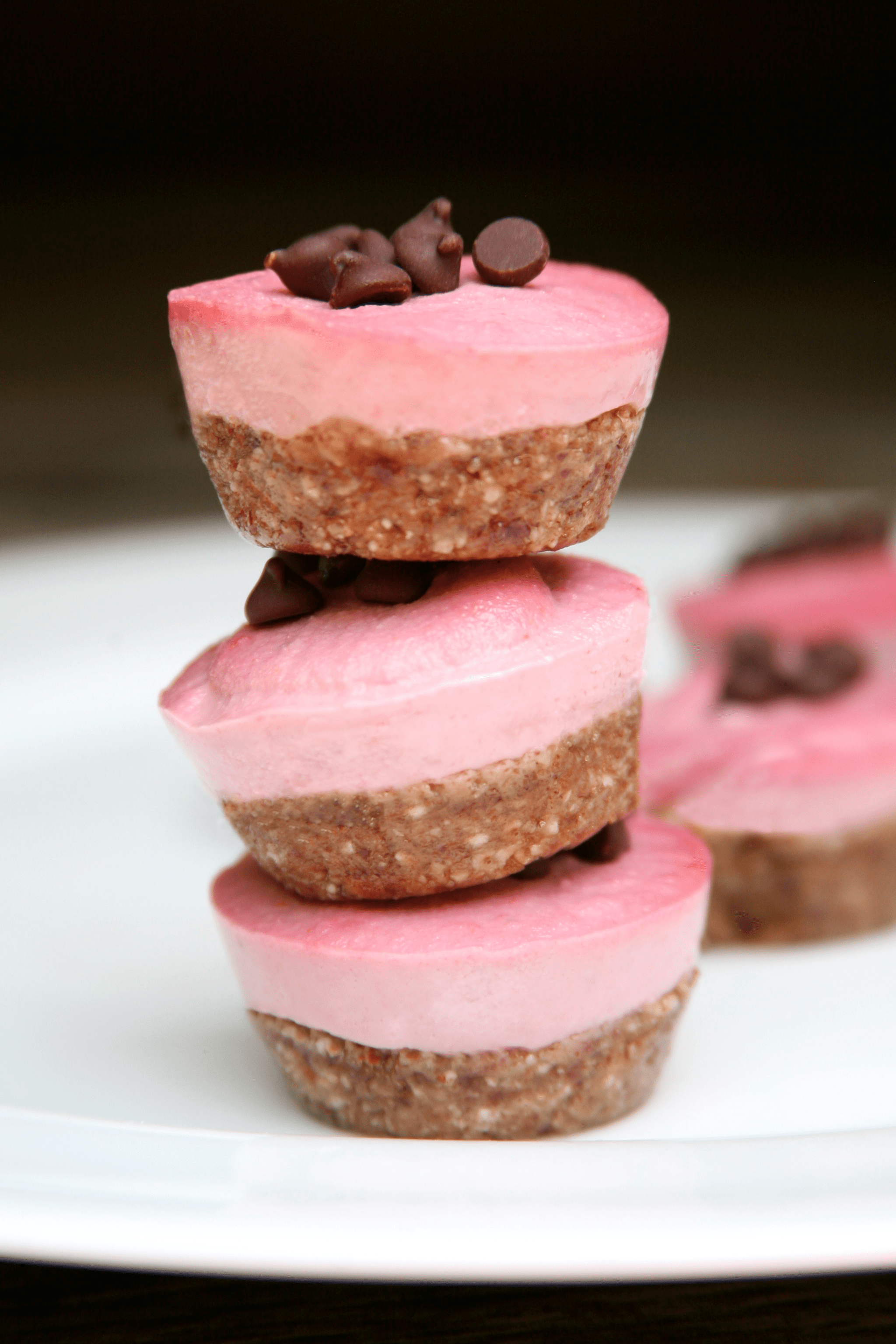 Don't fuss over what to make for dessert this spring

Serve them at your spring gatherings, or store them in your freezer.
INGREDIENTS: (We recommend organic ingredients)



1 cup raw cashews
1 cup pecans
6 dates, pitted
1/4 cup unsweetened shredded coconut
1/4 teaspoon sea salt
3/4 cup strawberries
2 tablespoons maple syrup
1 tablespoon coconut oil
Juice from half a lemon (1 tablespoon)
2 tablespoons dairy-free chocolate chips (we recommend Lily's dark chocolate baking chips)
METHOD:
Soak the cashews for at least 4 hours (or overnight).
Add the pecans, dates, coconut, and sea salt to a food processor and process until a slightly sticky, crumbly dough forms.
Press dough into the bottom of 22 mini cupcake sections using the back of a spoon and your fingertips. This makes the crust for the cheesecakes.
Place them in the freezer while you make the strawberry cheesecake filling.
Clean and dry the food processor. Drain the cashews and add those plus the strawberries, maple syrup, coconut oil, and lemon juice to the food processor and turn on for a couple minutes until a thick, creamy filling forms.
Take the muffin tin out of the freezer and fill each with the strawberry cream filling. Sprinkle with a few chocolate chips and freeze for at least an hour.
Allow to thaw for 15 minutes before serving.
THE LIVE FREE GROUP is a lively, energetic, integrity-based group of integrative health coaches bringing people together from all walks of life who want to seriously improve their health and lifestyles. We want you to know science has proven that poor health and degenerative diseases are preventable. You can achieve good health and you can maintain the changes made and have big results in how you feel and live. Please take a moment to subscribe to our blog, join our mailing list, like us on facebook, follow us on twitter, connect with us on linkedin, google+ and find us on Pinterest. Contact us if you have any questions or to set up a Free consultation.