I have had digestive issues for 2 and 1/2 years and after a long journey with doctors, tests, elimination diets, and OTC digestive medication, I started to lose hope.
Through Laughter in the Rain, Cancer Support Group, my mom met Teresa and put us in touch.  From that day forward my life was changed.  She put me on a supplement regimen with USANA products and advised that I maintain a low-glycemic, organic, gluten-free diet.  Within 1 week, I repeat ONE WEEK, all of my symptoms had disappeared.  I felt light, lean, and pain-free. I wasn't bloated anymore and I could actually go out to dinner and enjoy an evening with friends! I was in such shock that it all worked so quickly and I couldn't believe how amazing I felt all day long.  This was especially important for my marathon training. After I met Teresa, I ran my third marathon (NYC 2013) 12 minutes faster than my previous race!!
It has been 3 months since I've followed this diet and I feel great! I lost 10 pounds and I am energized all day; I never feel groggy, bloated, or fatigued.
Teresa Meadows is an exceptional Health Coach and I cannot thank her enough for all of her help, patience, and guidance in my health journey. I strongly urge anyone with similar symptoms or discomfort to get in touch with Teresa as soon as you can.  Sarah Zelenko
Having come through a personal health crisis, I began to understand the importance of cellular nutrition in a new way.  I added USANA supplements to my daily routine and experienced obvious benefits. I became more energetic and noticed a real difference in how I felt.   Twice,  I later tried other brands of supplements only to experience no difference.. I am now convinced that USANA is the only source of supplements for me!"  – Jean 
Just want to say that the Reset* was surprisingly freeing. I didn't have to think about food or preparing it. I tend to obsess about food when trying to plan out every meal. I found that if I did what I was suppose to, I didn't feel hungry or have any cravings. I learned that being prepared for being out and not getting home in time is really important. I got caught out and was ravenous. Fortunately, I was able to get vegetables while out and grilled fish. I feared that I had really messed up, but managed to get right back on track. The results of the 5 day Reset* really amazed me. I didn't want to talk about it as if I would jinx it. The truth is that my body responded to the Reset* and I lost 8 pounds and a few inches around my waist and hips. I don't feel bloated like I usually do. Anyway, I am moving forward into the next phase. Looking forward to a better way to live. This is the one aspect of my life I have been struggling with and this is now a new leg in my journey. God Bless you and thank you. – Jo Ann
I've been searching a long time for a way to eat healthy that is not a temporary, quick fix but a lifestyle I can live with and enjoy. I attended the Live Free Group Nutrition Challenge series and was hooked the first week by what I learned and decided to at least do the Reset*… hoping for but not really expecting much of a difference. I had been told the shakes and bars were delicious and satisfying. My expectations were very high. The shakes and bars were delicious and with the addition of the supplements, I was very satisfied. My cravings were gone… even TV commercials didn't rattle me as in the past. After 5 days on the Reset* I lost 6.5 lbs which, I was told was above the norm. 1.5″ off my waist and 2″ just below my waist. My Health and Wellness Coach was with me every step of the way… questions or concerns were only a phone call away. This is something I can definitely do! Thanks Teresa! – Joyce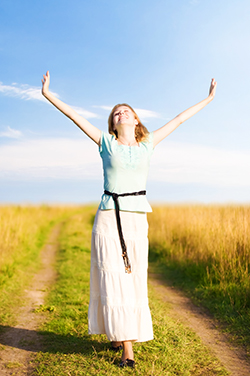 I had been trying to lose weight for 20 years, ever since I had a child. I tried pretty much everything on the market but I never had the control to get past the cravings and the emotional need to eat. That's when I realized that if I was going to lose weight, I needed a health coach. Then a friend introduced me to Janice Rackley of the Live Free Group and USANA Health Sciences. The two of them were my winning combination! I have lost 40 pounds and am still reducing! I truly enjoy the USANA food products and with Janice's guidance, I have learned how to overcome those barriers that kept me from losing weight before. The USANA food and nutritional products are so satisfying that I never get tired of using them, and Janice has been a true God-send. Thanks, Janice, for being there for me. – Pat
On January 2, 2013, before going to work, I got on the scales for the first time in about six months. I was shocked, disgusted and quite frankly, disappointed in myself. I had been feeling sluggish and depressed for months. My clothes did not fit and I knew I needed to do something. I arrived at work that same day to find I had received an email on my work email on New Year's Eve from Janice Rackley inviting me to take the Nutrition Reset* Challenge. It was a prayer answered and that email changed my life. I met with Janice and discussed how Reset* worked and decided that I had nothing to lose except some weight. I started Reset* on January 7, 2013. I was a little nervous because I have never succeeded at any diet and I was afraid of failure. I cleaned out my kitchen cabinets of all the bad foods and got to work. It did not take long for me to learn that this was not just another diet, it was a lifestyle change. Janice has been the moving force to keep me on task. She has taught me how to eat without depriving myself. She encouraged me to start going to the gym that I had joined 1-1/2 years prior but had only attended only a few time. I started working out and walking and it has been paying off. I have given away four garbage bags of clothes that outgrew me. Today my goal is to be able to fit into the wedding dress I wore when I was 20 years old. meet with Janice at a little coffee shop next to my office at lunch time on Tuesdays. We go over a meal plan for the week and go over various recipes to give me some variety so I do not get bored with what I am eating. Janice has taught me how to take almost any recipe and alter it to a healthy recipe. I am more energetic now than I have been in years and I am no longer depressed when I step on the scale. I am proud of myself and of my accomplishments. I look forward to continuing on my new lifestyle journey of healthy eating and exercise and I know I can do it for the rest of my life. I am not only blessed to have my dear friend and health coach, Janice, in my life, but to have family, friends, and co-workers who are supportive of me. It makes me feel so good about myself when I can pull a shirt, pants, or dress out of my closet that I haven't been able to wear in years and it fits. It also makes me feel good when my family, friends, and co-workers tell me how good I look. I love my new life and I look forward to sticking with my USANA shakes, bars, and nutrients for the rest of my life. I am a new person because of Janice and USANA.  – Julie

During the first five years of our retirement, we were happy spending time and traveling together.  The days were turning into years of enjoying each other and the gentle ebb and flow of life.  We were not prepared for the sudden interruption of our lives to hear the word cancer.  My husband was diagnosed with cancer and within six months he lost his battle.  Without pause in just a short six months later I was diagnosed with breast cancer.  As a survivor of cancer myself and having seen the consequences of poor health in my life and that of my family, I went on a mission to learn as much as I could about maiontaining optimal health. 
Read more...
After speaking with Teresa of the Live Free Group, I learned more about her work as a Life Health Coach.  She talked about the importance of being supported nutritionally at a cellular level. Today it is not merely genetics, but how our environment and lifestyle choices really affect our overall health.  Our health is affected at a cellular level.  A healthy lifestyle helps us to move to a place of balance and health. 
As she continued to share this valuable information with me, I was beginning to understand that there was so much missing in my daily lifestyle after just having finished treatment for cancer. 
As I began my new journey to a better place of health, there was a new excitement emerging within me.  Learning, over the many months ahead, the important changes I would be making to create a healthy lifestyle.  Step by step, starting with pantry purging, food choices and grocery shopping were all moving in the right direction and I was feeling empowered for the first time.  Adding high-quality supplementation to my clean diet was now going to give my body the many nutrients it was lacking.    Also, this would better support my health at a cellular level that I desperately needed in order to have more optimal health moving forward.  Lastly, as much as I enjoy gardening and being outdoors, I learned that I needed to increase the amount of activity for me to meet my goals and enjoying even greater benefits to my health. 
This has been a process of making important changes in my daily living that over time will give me freedom to want to make different choices.  Getting healthy is not the latest diet but more about a permanent healthy lifestyle that is bringing me results.  I am no longer in the dark in what I need to do to be healthy and I am enjoying becoming a healthier me day by day.           – Joanne S.
*The results described are not typical. The typical participant on the Reset Program lost 4.5 pounds in 5 days.
THE LIVE FREE GROUP is a group of international wellness and medical professionals trained by leading experts in the industry. Our coaches are educators and speakers, providing services to clients from a wide variety of backgrounds and needs. We are all about helping you become your personal best. If you are finding it more challenging than ever to juggle the demands of your family, your work, your athletic training, or your just plain rushed lifestyle, you have come to the right place.  Click here to read more about us. 

 GET INSPIRED! START ON YOUR PATH TO HEALTHY TODAY!

FDA Disclaimer: * These statements have not been evaluated by the Food and Drug Administration.  This product is not intended to diagnose, treat, cure, or prevent any disease.    Reset Disclaimer: It is suggested that you take these products to your physician and secure his/her advice if you intend to change your diet, begin an exercise program, are pregnant, lactating, have allergies, are taking medications, or are under the care of a physician. Reset is a FOOD, not a DRUG. Results will vary.   As with any health or fitness program, a sensible eating plan and regular exercise are required in order to achieve long-term weight loss results.