THE GOAL: A HAPPY HEALTHY FAMILY
Our bodies are designed for excellence and our lifestyles can either support or prevent us from experiencing it.
Are you a busy mom or dad trying to better insure meeting the nutritional needs of your family?
There is a growing concern today that we're not getting all the vitamins and nutrients that we need from our food choices alone. Can we really be confident that the delicate growing bodies of our children will have all they need to be strong and healthy? What we do now to support them well, during these important years, as their bodies are developing at astounding rates, will affect their physical, emotional and cognitive health into the future.  The healthier they are at a cellular level, the more likely their bodies and brains will become more optimally developed. It is important to  support the main building blocks needed by human cells — essential vitamins, minerals, and antioxidants for each body system. Children are forming the foundation of their future health as adults.
As parents, keeping ahead of our busy schedules and finding the extra time to do the things we enjoy, requires planning, preparation and quality resources that provide the support we need to accomplish more optimal health for our children on a daily basis.
GROWING UP HEALTHY KIDS
Scientifically Speaking: What Parents Need to Know
When it comes to children, you have to pay extra attention to everything — especially their nutritional health, because optimal nutrition during early childhood and adolescence is so crucial to proper growth and development.
Of course, you already knew that, didn't you?
We hear it constantly: a person's physical and mental developments during their childhood years are ones that will shape the rest of their lives and determine the future of their health. But the problem is, plenty of people are hearing this, but few are listening to the actual message and taking action.
If you're one of many who don't understand the seriousness of proper nutrition and lifestyle for children and teens, maybe some of these statistics will change your view on the issue.
Children with physical, emotional, behavioral, or developmental problems are over twice as likely to not be engaged in school.
31.6 percent of children ages 10–17 are overweight or obese, with stats ranging from 23.1–44.4 percent.
Only one in five children consumes five or more servings of fruits and vegetables per day. The number one "vegetable" of today is french fries.
The Centers For Disease Control and Prevention estimate that one in three children born in the year 2000 will develop diabetes in their lifetime.
Most U.S. youth do not consume the daily-recommended amount of fruits, vegetables, and whole grains, yet they typically exceed their daily intake of sodium.

Okay, so now you know the problem, and luckily, USANA has a solution (or at least a start to a solution) in the form of Usanimals™ — a comprehensive daily vitamin, mineral, and antioxidant supplement for children.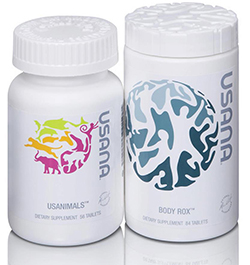 Adequate amounts of key nutrients such as zinc, vitamin B6, magnesium, and calcium are missing from the diets of more than 50 percent of children from two to 10 years old. Vitamins C and D are also often deficient, and a quality nutritional supplement, such as Usanimals, can help ensure that none of these essential nutrients are missing from your child's diet.
And if your kids have grown from children into teenagers, you can provide the same nutritional supplementation tailored for adolescence with Body Rox™ — USANA's version of Essentials™ for teens.
Other USANA products that may be appropriate for youth include calcium, probiotic, and fish oil.
The Active Calcium™ Chewable is perfect, because it provides the same nutritional benefits as our normal Active Calcium™, but in a chewable, convenient, and tasty form, making it an ideal solution for your child's calcium supplementation.
And don't underestimate how important calcium is to their growing bodies. Start young when the children are growing to help insure healthy bones and bodies.
Active Calcium Chewable is generally recommended as follows:
Children 1–6 years: not recommended
Children 7–10 years: one half to one Active Calcium tablet per day
Children 11–12 years: one or two Active Calcium tablets per day
Another product that may be appropriate for your children if taken at a recommended and reduced dosage is USANA Probiotic® — a food supplement for digestive and immune health.* For children taking USANA Probiotic, we generally recommend a dosage that is about half of the adult dosages (half a packet every other day), unless their doctor says otherwise.
So when would you give your child USANA Probiotic, and what are the benefits?
Basically, the USANA Probiotic supplement is intended to bring balance to and promote a healthy digestive system.* People take it at various times, such as when their stomach is irregular, when traveling in foreign places for extended amounts of time, and during antibiotic treatment. The same can go for your child — give them the supplement whenever you sense their digestive system may need a little extra support.
Gives your growing kids a healthier edge on life!
GET INSPIRED! START ON YOUR PATH TO HEALTHY TODAY!

FDA Disclaimer: * These statements have not been evaluated by the Food and Drug Administration.  This product is not intended to diagnose, treat, cure, or prevent any disease.    Reset Disclaimer: It is suggested that you take these products to your physician and secure his/her advice if you intend to change your diet, begin an exercise program, are pregnant, lactating, have allergies, are taking medications, or are under the care of a physician. Reset is a FOOD, not a DRUG. Results will vary.   As with any health or fitness program, a sensible eating plan and regular exercise are required in order to achieve long-term weight loss results.