FESTIVE CRANBERRY-PEAR WILD RICE STUFFING

When Thanksgiving Day rolls around, are you the first in line for the stuffing? We're not saying there's anything wrong with your family's special recipe, but if it's made with white bread and butter, it's not exactly the healthiest. Here is an alternative that is equally tasty, but with a healthier twist.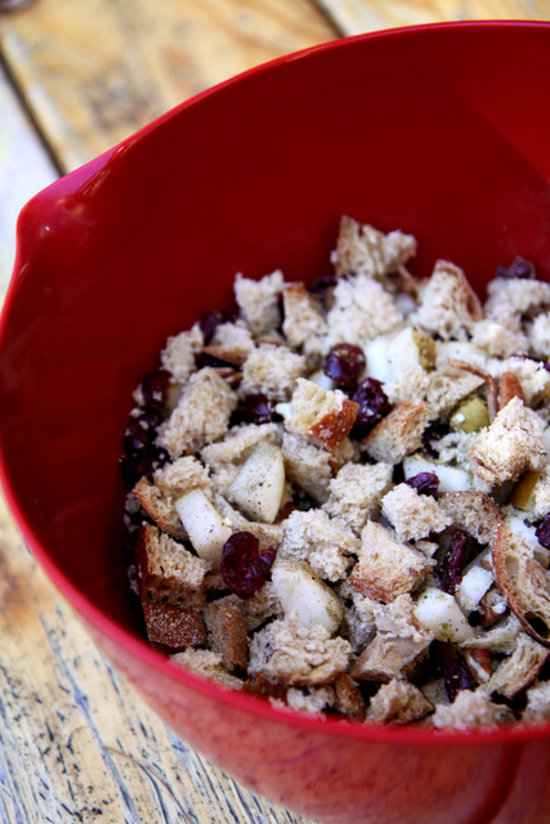 Like traditional stuffing, this version is made with Ezekiel or Millet and Flax or your favorite bread and wild rice. A sweet hint of pears, red onions, apple cider, and dried cranberries serves to bring out a burst of the most delicious Fall flavors for you Thanksgiving table.
Ingredients
2 1/2 cups low-sodium vegetable broth
2/3 cup raw wild rice
1 1/2 tablespoons extra virgin olive oil
1 medium red onion, chopped
2 large organic celery stalks, diced
2 medium firm organic pears, cored and diced
2 cups finely diced bread of your choice
1/3 cup dried organic cranberries
1/4 cup chopped pecans
2 teaspoons iodized sea salt
1/2 teaspoon dried thyme
Salt and freshly ground pepper to taste
1/2 cup organic apple cider
Directions
Bring the broth to a simmer in a small saucepan. Stir in the wild rice, then cover and simmer gently until the liquid is absorbed, about 35 minutes.
Preheat the oven to 375°F.
Heat the oil in a medium-size skillet. Add the onion, and sauté until translucent. Add the celery, and sauté over medium heat until both are golden.
Combine the onion-celery mixture with the cooked wild rice and all the remaining ingredients except the apple juice in a mixing bowl. Stir well to combine. Drizzle the apple juice in slowly, stirring all the while, until the mixture is evenly moistened.
Transfer the mixture to a lightly oiled, large shallow baking dish. Bake for 30 to 35 minutes, or until the top begins to get slightly crusty.

THE LIVE FREE GROUP
 is a lively, energetic, integrity-based group of integrative health coaches bringing people together from all walks of life who want to seriously improve their health, lifestyles and finances. We want you to know science has proven that poor health and degenerative diseases are preventable. You can achieve good health and you can maintain the changes made and have big results in how you feel and live. Please take a moment to subscribe to our 
blog
, join our 
mailing list,
 like us on 
facebook
, follow us on 
twitter
, connect with us on 
linkedin
, 
google+
 and find us on 
Pinterest
. 
Contact us
 if you have any questions or to set up a 
Free consultation.
Please take a moment to like us on
Facebook
, follow us on
Twitter
, connect with us on Linkedin, find us on
Google+
, pin with us on
Pinterest
, join our
email list
and Subscribe to
our blog
. Click here to
contact us
now and if you're ready to
start shopping click here
!