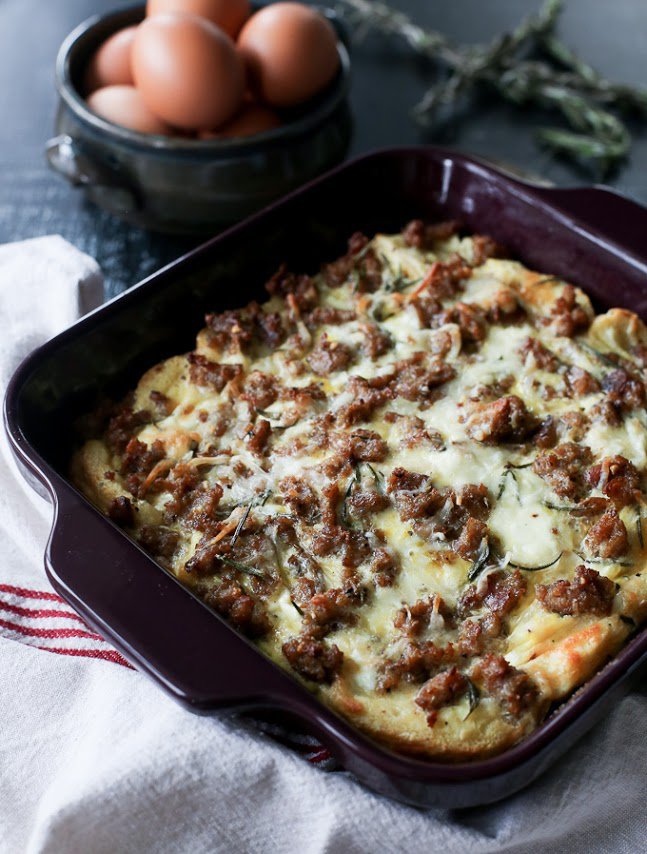 Today's goat cheese + sausage breakfast casserole joins in with a great casserole to whip up Saturday or Sunday morning or for a holiday breakfast gathering. If you have stale bread laying around, this is the time to use it. ENJOY all sorts of wonderful flavors like sausage, rosemary, and goat cheese. NOT  much of a casserole fan? ….this dish has changed all that!
INGREDIENTS: (We recommend organic ingredients)

2 sweet Italian sausages (.20 lbs)

1 clove of garlic, minced

1 small sprig fresh rosemary

6 eggs

1/2 c goat cheese, crumbled

1/2 c shredded mozzarella

1 1/2 c milk

1/2 tsp salt

1/4 tsp pepper

French baguette slices

Shredded mozzarella, garnish
INSTRUCTIONS:
Preheat oven to 350F.Cook sausage for 3 minutes in a skillet, then add garlic and rosemary leaves from sprig. Sauté until sausage is cooked through, stirring frequently. Chop sausage into small bits.
In a large bowl, whisk eggs together. Add cheeses, milk, salt and pepper. Stir well. Set aside.
Butter the bottom and sides of an 8×8″ baking dish. Arrange enough baguette slices to cover the bottom of the dish, tearing slices into chunks if necessary. Pour egg mixture over bread. Top with sausage mixture spreading out evenly. Top with a small sprinkle of shredded mozzarella. Bake 40 minutes or until cooked through. Cool for a few minutes before serving.
THE LIVE FREE GROUP is a lively, energetic, integrity-based group of integrative health coaches bringing people together from all walks of life who want to seriously improve their health and lifestyles. We want you to know science has proven that poor health and degenerative diseases are preventable. You can achieve good health and you can maintain the changes made and have big results in how you feel and live. Please take a moment to subscribe to our blog, join our mailing list, like us on facebook, follow us on twitter, connect with us on linkedin, google+ and find us on Pinterest. Contact us if you have any questions or to set up a Free consultation.