BLUEBERRY-KALE SPRING SALAD with ROASTED SWEET POTATO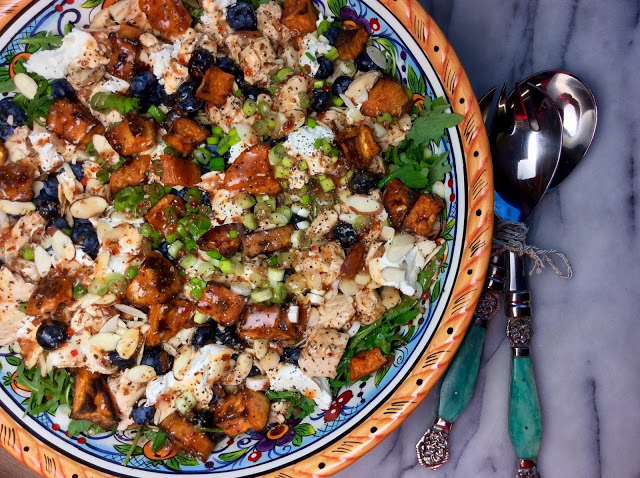 Don't  feel  guilty!! Enjoy this "spring-inspired salad".



A NEW addition to our 28-Day Be Healthy Program 

Your taste buds will LOVE this salad!!! Instead of  fried potatoes, roast and toss them into your salad. Roasting enhances their sweetness and adds a welcoming warmth to this cool, spring-inspired salad.
INGREDIENTS: (We recommend organic and free-range ingredients)
2 lbs. boneless, skinless chicken breast, chopped
2 large sweet potatoes
2-3 Tbsp. extra-virgin olive oil
5 oz. baby kale
5 oz. arugula
6 oz. fresh blueberries
4 oz. goat cheese
1/4 cup slivered almonds
2 green onions, diced
1/4 cup+ your favorite homemade dressing
Try our latest favorite dressing, see link below!

METHOD:
Preheat oven to 450 degrees F
Remove skin of sweet potatoes and dice into chunks. Evenly spread potatoes on baking sheet and drizzle with olive oil. Bake 45-50 minutes, flipping half way through cook time.
While potatoes bake, add chopped chicken breast to heated skillet. Top with 1/4 cup dressing and heat chicken until cooked through.
In a large bowl, add kale and arugula. Toss to combine.
Top greens with chicken, sweet potatoes and remaining ingredients.
Drizzle a tablespoon or two of dressing on top, if desired.
THE LIVE FREE GROUP is a lively, energetic, integrity-based group of integrative health coaches bringing people together from all walks of life who want to seriously improve their health and lifestyles. We want you to know science has proven that poor health and degenerative diseases are preventable. You can achieve good health and you can maintain the changes made and have big results in how you feel and live. Please take a moment to subscribe to our blog, join our mailing list, like us on facebook, follow us on twitter, connect with us on linkedin, google+ and find us on Pinterest. Contact us if you have any questions or to set up a Free consultation