Marinated Roasted Vegetables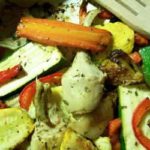 Tasty roasted vegetables with a sweet, smoky and herby taste. Good for the main course, with quinoa, brown rice, pasta or as a simple side dish.
 Ingredients (We recommend organic ingredients!) 
Ingredients 
Serves:

 4 
8 zucchini, peeled and diced

1 eggplant, peeled and diced

8 carrots, diced

16 cherry tomatoes

2 red onions, sliced

1 red bell pepper sliced

1 yellow bell pepper, sliced

8 tablespoons olive oil

1 teaspoon dried rosemary

1 teaspoon dried thyme

2 bay leaves, crushed

1 teaspoon dried oregano

2 cloves garlic, crushed

2 tablespoons fresh lemon juice

1 teaspoon grated lemon peal (zest)

1 pinch salt and pepper, to taste

1 pinch of capsicum pepper powder for a little-added

heat
Directions:
In a large bowl mix the zucchini, carrots, eggplant, tomatoes, onions and capsicum with the oil, rosemary, thyme, bay leaves, oregano, garlic, lemon juice, lemon zest, salt and pepper. Cover and chill for at least 2 hours and preferably overnight.

Preheat oven to 200 degrees C.

On a large roasting tray roast the vegetables uncovered for 20 minutes or until the tomatoes have split and the edges of some of the vegetables are starting to crisp.

Remove from the oven and stir before returning to the oven for another 20 minutes. At this time reduce heat to 95 degrees C and continue cooking until vegetables are tender; turning every 20 minutes.
ENJOY!!! 
Recipe by Australia Allrecipes
THE LIVE FREE GROUP is a lively, energetic, integrity-based group of integrative health coaches bringing people together from all walks of life who want to seriously improve their health and lifestyles. We want you to know science has proven that poor health and degenerative diseases are preventable. You can achieve good health and you can maintain the changes made and have big results in how you feel and live. Please take a moment to subscribe to our blog, join our mailing list, like us on Facebook, follow us on Twitter, connect with us on LinkedIn, Google+ and find us on Pinterest. Contact us if you have any questions or to set up a Free Consultation